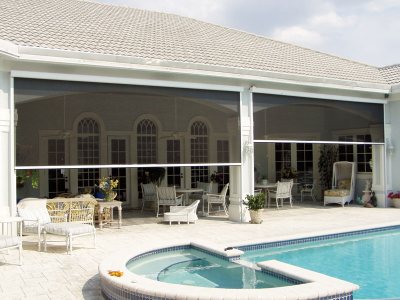 Power Screens

Enjoy the outdoors on your terms! With the touch of a button, an Exterior Screen from Rainier Screen Systems can enhance your home to provide shade, energy savings, ventilation and insect protection. Rainier has a history of providing exceptionally crafted, custom made retractable shading systems. Our tradition of quality guarantees a sound investment in your home's comfort and elegance.
Rainier Screen Systems are designed to filter out the majority of the sun's harmful effects while preserving your outdoor view and allowing you to better control your interior lighting. Our product is used to reduce annoying glare on computers and television screens and diminishes the harmful UV rays that fade your valuable home furnishings.
Rainier Screen Systems feature our innovative SRS™ Side Retention System, the strongest retention system available in the market today. The system is designed to keep the screen mesh stable, and allows for worry-free use of your screen, even in high wind conditions. We have field-tested our screens in winds up to 75 miles per hour. Unlike other screen systems, your Rainier SRS™ screen can be left down when the wind blows, providing protection and energy savings.
Protect your awning from the wind.
Reduce the risk of having your awning damaged by high winds. It retracts automatically if the wind picks up, even if you are away from home. Highly recommended for peace of mind! Sun and Wind Sensor Control. Your awning reacts automatically to the weather. As soon as the sun comes out, it extends automatically, and your patio and rooms are shaded and remain cool. If a storm threatens or the wind picks up, your awning retracts automatically.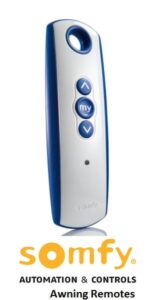 Remote and Automatic control for Awnings. Everything you want in a retractable awning becomes easier to use, and more enjoyable, with a Somfy motor and electronic control. Somfy Automation gives finger-tip control, for the easiest way to extend or retract the largest, heaviest awnings around. Or to control several awnings, even a whole houseful of them, from one simple push-button switch or remote transmitter. Somfy Automation gives peace of mind when away. Somfy sun and wind sensors automatically protect a home from the heat of the sun. And they protect awnings from the damaging effects of rain, sudden storms, and heavy winds. And, because Somfy Automation makes awnings so easy to use, they'll get used more often.